Welcome to Cattails Golf Club!
In following the Governor's executive order and our continued focus on operations per an overabundance of caution,
Cattails Golf Club has suspended the indoor simulators until further notice. 
---
Along with our daily standard sanitation at the course, we have added extra instructions to our staff in methods of cleaning/disinfecting our golf club.  As well as new precautions for the course. We have informed all staff that if they do not feel good to stay home. As the CDC recommends please if you do not feel good stay at home.
---
Cattails response to COVID-19:
*Please read before coming to the course.*
Booking/Check-in:
We are transferring over to a "no-contact" check-in for tee times. We are not allowing walk-ons at this time.
This means if you book online you will be asked to pay in full at the time of booking. As well as, over the phone for direct booking through our golfnow answers service. We accept Visa, Mastercard, and discover, and debit cards. When you do get to the course please have only 1 person from your tee time come to check-in.
Check-in is located outside on our back patio- just let us know you are here! Please refrain from showing up more than 15 minutes prior to your tee time. We have strategically spaced out tee times for your and our staffs safety.  
(no direct contact needed, this can be done with social distancing!) In addition, we are spacing out tee times all day long.
Clubhouse/Staff: The Clubhouse is closed.
The outdoor course remains open.  Clubhouse bathrooms are closed. We have added additional Portable restrooms on the outside and on the course. We are continuously sanitizing throughout the clubhouse multiple times a day and taking all necessary precautions to ensure everyone's health. Our staff is operating with an overabundance of caution. Cattails staff has been educated on the importance of sanitation for the health of everyone and are taking these precautions seriously.
Food & Beverage:
We have a limited turn menu through our back patio window, which is take away only.
If you are on hole #8 please call ahead and pre-pay for your order.
We will only be using disposable products for serving food and beverages. For food, we will be using the paper boats, plates, and pre-packaged plastic silverware. We will also be using prepacked condiments.
For beverages, we have decided to use only bottled soda, bottled water and canned beer.
Golf Carts/Course:
At this time, Cattails has limited carts available- 1 person per cart, unless you live in the same household (must show proof of residence).  BE AWARE that not all tee times accommodate carts, so please make sure when booking online you know if you are booking walking only or with carts!!
Being that we are not usually a "walking" course we do not provide pull carts. However, you are more than welcome to bring your own. On the course cups have been flipped upside down, bunker rakes and ball washers have been removed, there is no water on the course and flagsticks must stay in the hole at all times.
Golf Carts are being cleaned and sanitized between each use. Our staff is taking an overabundance of caution when it comes to our patrons and staffs safety.
As the CDC has recommended; wash your hands thoroughly for 20 seconds, cover your cough/sneeze, avoid touching face with unwashed hands, avoid handshakes, avoid contact with people who are sick and please stay home if you are sick or have come into contact with someone else who is sick. Please bring your own personal hand sanitizer, and please do not share food or drink. While playing golf, leave the pin in, forget the 1st and 18th hole handshake, practice social distancing, consider walking and not riding.
Cattails Golf Club is committed to the health and safety of our community, if you have any questions or concerns please call 248-486-8777.
We thank you for understanding and helping flatten the curve!
---
Click here to see info about our Driving Range!
---
CATTAILS 2020 HOUSE LEAGUE
SIGN UPS STARTING NOW!! Due to COVID-19, the start of house leagues are delayed. TBD.
---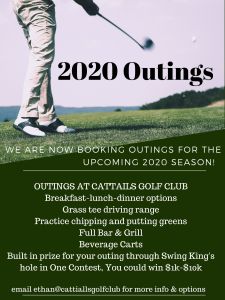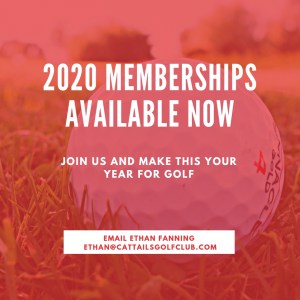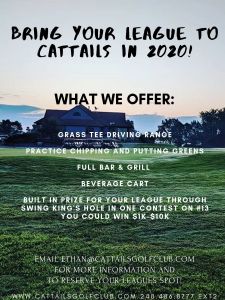 ---
---
Looking for public events?
Click the link below to view our event calendar!
For your convenience, any private events that may restrict open play will be added as well!
https://www.cattailsgolfclub.com/events/upcomingevents/
---
Welcome to Cattails Golf Club! Cattails Golf Club 18-Hole Championship public golf course was designed by PGA Professional John R. Williams and opened in 1991. The course has hosted The Michigan Amateur Qualifier, LPGA Futures Tour, Amateur Shooters Tour, Elite Company, and Charity Events. Located just minutes outside of Detroit, Cattails is Michigan's golf destination.
The course embodies the natural beauty of the South Lyon area. Cattails Golf Club successfully integrates the many acres of wetlands and hardwood forest native area. The front nine travels through and around creeks and wetlands. The back nine is cut through a hardwood forest with a few wetland areas to navigate.
Cattails is a daily fee public course, offering a level of superior personal service, outstanding course conditions, and amenities. Choose Cattails for the best golf in the Detroit area.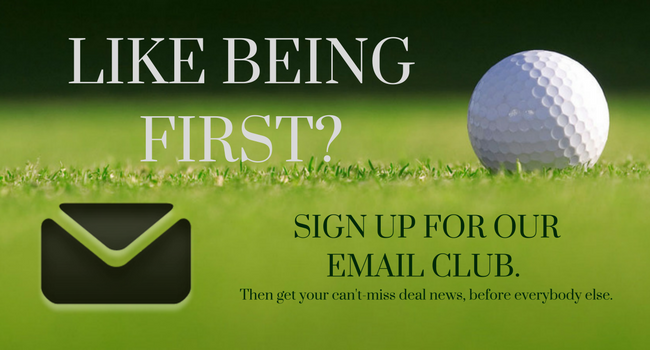 ---
Proud Sponsors: