C

attails Indoor League:
2020/2021 TBD.
Cattails Golf Club offers a 9-hole indoor house league through Nov-Mar, on the AboutGolf Simulators!  This league uses a modified Stableford scoring system. Handicaps are established after the third week of league for all new members.
If you played in a previous season, the handicap for yourself will be carried over into the 2019-2020 league season.
If you would like to see a full rule sheet of the league please contact the clubhouse.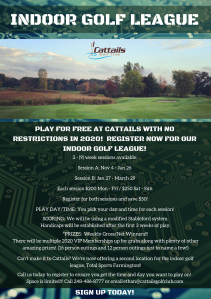 DATES:
Session A- Begins November 11th – Feb 2nd.
Session B- Begins February 3rd  – April 5th.
Each session is 9 weeks. League will not play on week of Holidays.
COST:
Session A- $200 Mon-Fri
Session B- $200 Mon-Fri
*Play both sessions for $350 total! SAVE $50!!*
League play on Saturdays & Sundays are $250 per session.
PRIZES:
Weekly gross/net winners!
There are multiple VIP Memberships up for grabs,
as well as other awesome prizes!
(16 person and 12 person outings just to name a few!)
FOR MORE INFO OR TO SIGN UP FOR LEAGUE:
please email Ethan Fanning at Ethan@cattailsgolfclub.com
Or call Cattails Golf Club: (248) 486.8777
We look forward to having you in the league!